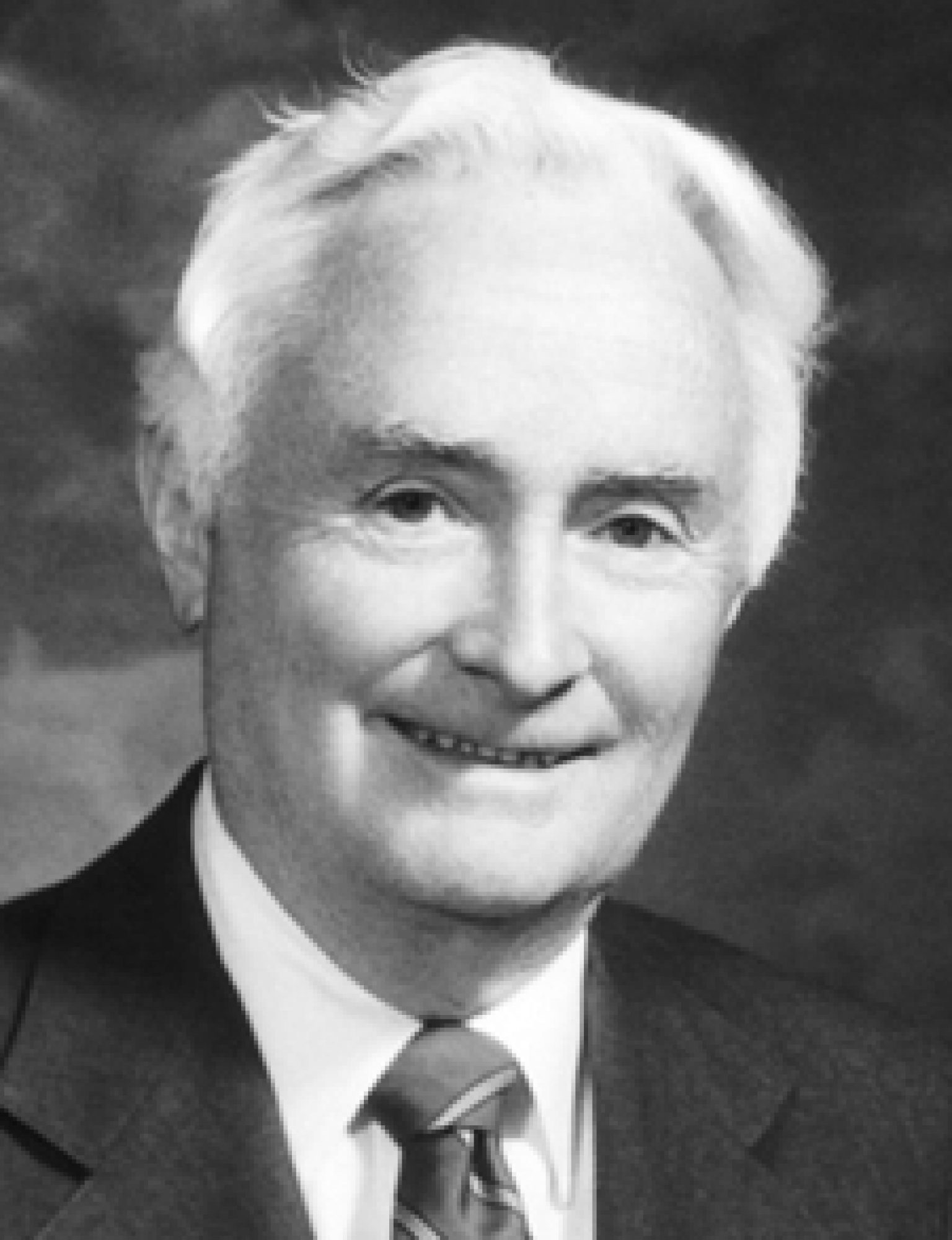 Center's Beloved Founder Dies at 84
In The News

November 30, 2011
With sadness we announce the passing of Charles "Hank" Spaulding ('51), founder and first chairman of the MIT Center for Real Estate, who died on Thanksgiving Day, Thursday, November 24, at the age of 84. As founder of the Center, Hank was the driving force behind this graduate education and research program offering the world's first one-year Masters of Science in Real Estate Development (MSRED) degree.
According to Tony Ciochetti, MIT/CRE's Thomas G. Eastman Chair and professor of the practice of real estate at MIT, "Hank was a true visionary in his creation of the Center for Real Estate. Serious study of the field of real estate development was a unique undertaking that fit the mission of MIT very well. Combining the skills of business, planning, design, construction and economics, the MSRED program has influenced the lives of 780 graduates who have been instrumental in creating a better built environment in 26 countries around the world. Hank's generosity to the Institute, the School of Architecture and Planning, and the Center for Real Estate demonstrate his fondness for 'all things MIT.'"
Professor David Geltner, the Center's Director of Research, echoed those thoughts. "He was the kind of person who restores your faith in humanity… And I know I speak for the nearly 800 alumni of the MIT Center for Real Estate around the world, as well as for all of us who serve and believe in the Center that Hank so generously and wisely founded and served. Hank will always live on at MIT, especially at the Center, and we will never forget him. The world is, and will continue to be, a better place for Hank's legacy."
Hank was born in Manchester, NH, on March 2, 1927, the oldest of three children. He spent much of his free time outside of school working behind the soda fountain at his father's 'Family Drug' store and restaurant, and it was there that he first caught the entrepreneurial spirit.
He graduated from MIT with a degree in Civil Engineering in 1951, and began his professional career designing and building bridges at Parsons Brinckerhoff. After several years he moved to Cabot, Cabot & Forbes where he learned the real estate development business. One of Hank's first projects was to develop a 7,000-acre ranch in Laguna Niguel, California into a residential town with a population of 30,000. He went on to became an Executive Vice President and Director at CC&F, involved in developing some of Boston's most iconic downtown office towers and suburban industrial parks.
In 1967, Hank co-founded Spaulding & Slye Corporation. Under Hank's guidance, the company went on to develop office properties in Boston, MA, Washington, DC, Charlotte, NC, and Oklahoma City, OK. He led the company as president and then as chairman until 1982.
For the next three years, Hank worked closely with Jean de Monchaux, then dean of the MIT School of Architecture and Planning, to link the disciplines of architecture, urban studies and planning, civil engineering, economics, and management into a program that has since become a model for real estate programs at other universities. Hank served as MIT/CRE's first chairman until 1985, when he stepped down to found Spaulding Investment Company.
In 1986, MIT honored Hank with the Bronze Beaver – the highest honor given by the MIT Alumni Association for distinguished service – and in 1991 with the Marshall B. Dalton Class of 1915 Award for extraordinary leadership in developing resources for the Institute.
Hank has been recognized for his contributions to the real estate industry with many industry distinctions including the Real Estate Finance Association's Real Estate Legends Award, the Greater Boston Real Estate Board's Robert S. Swain Award, and MIT's Visioneer Award, among others.
In addition to serving as a board member for the MIT Corporation, Hank also served on the boards of the Lahey Clinic, Pinkerton Academy, The Carroll School, the Kennebunk Beach Improvement Association, and the Senior Center at Lower Village, which he co-founded with his wife Ann.
Hank and Ann raised their family of seven children in Lexington, Massachusetts, and then moved to Kennebunk Beach in 1977, where the family had summered for many years. One of Hank's greatest delights was spending time with family on vacations. He enjoyed skiing at Sugarloaf, playing tennis, and boating in Florida. His other great interests were playing piano, woodworking and maintaining a family history through his photography.
Spaulding is survived by his wife of 57 years, Ann Emerson Spaulding; sister Jean Rand and husband Dave, of Willimantic, Conn.; brother Richard Spaulding and wife Eleanor, of Lexington, Mass.; sons Rob Spaulding and wife Penny, of Kennebunk Beach, Maine; Scott Spaulding, of Newburyport, Mass.; Andy Spaulding and wife Chris, of Andover, Mass.; Jack Spaulding and wife Suzanne, of Portsmouth, N.H.; and Tom Spaulding and wife Mary, of Kensington, N.H.; daughters Jane Spaulding Breiby and husband E.J., of Lexington, Mass.; and Sue Spaulding, of California; and eight grandchildren.
In lieu of flowers, donations in Hank's memory can be made to:
Gosnell Memorial Hospice House
c/o Hospice of Southern Maine
180 US Route One
Scarborough, ME 04074
or
The Senior Center at Lower Village
175 Portland Road
Kennebunk, ME 04043
You may view and sign the memorial guest book until it closes on 12/27/2011.