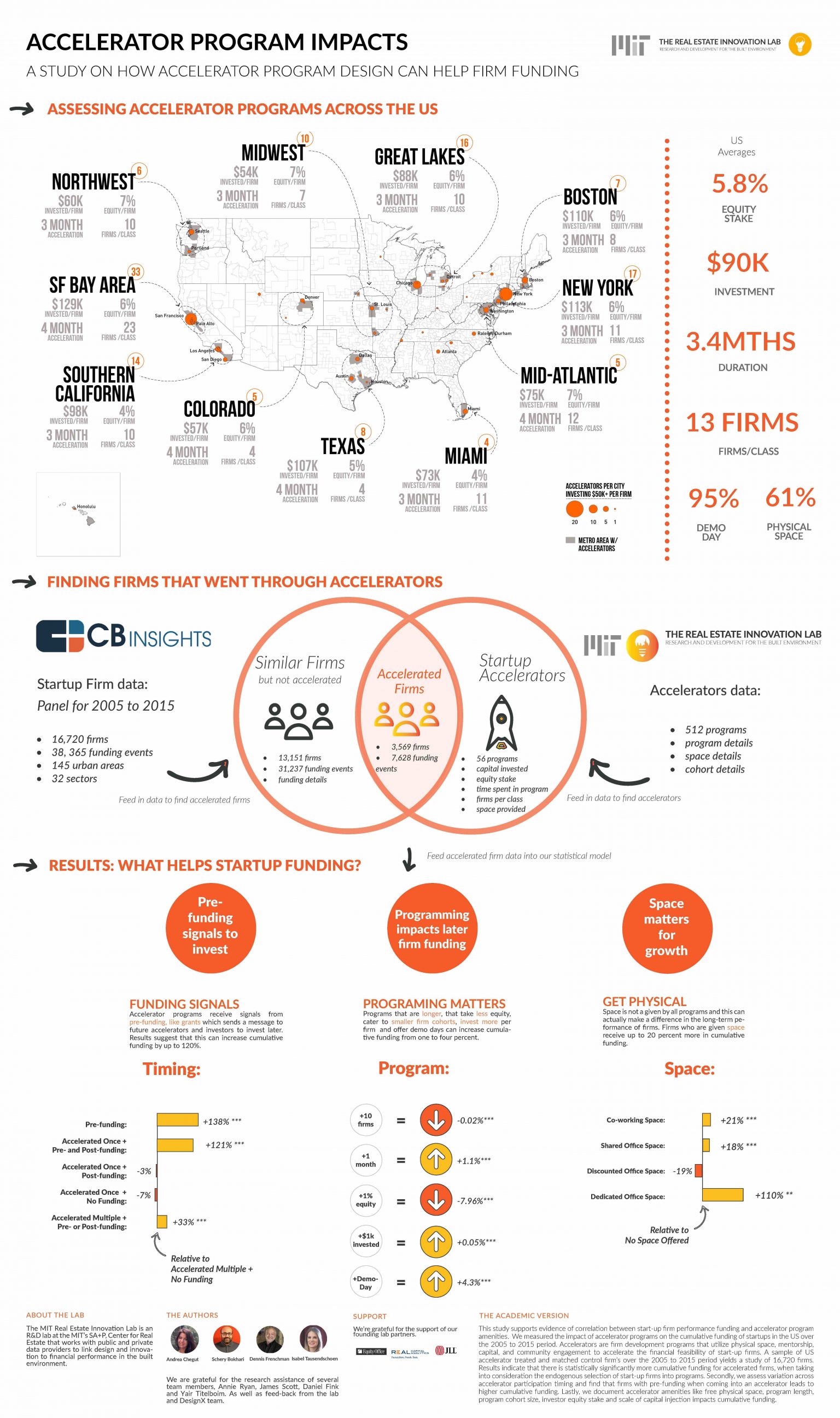 Real Estate Innovation Lab releases Research on Accelerator Programs
In The News
March 7, 2018
Cambridge, MA
New research from Dr. Bokhari, Dr. Chegut, Professor Frenchman and Dr. Tausendschoen asks can we actually help startup firms grow with real estate? In a new study from the Center for Real Estate's Real Estate Innovation Lab, the team studied whether accelerator programs and their unique combinations of physical space, mentorship, capital injections and market timing has an impact on the cumulative funding of startup firms.
It turns out, these interventions when thought out carefully can lead to up to 7 percent, on average, more funding over the lifetime of the firm. "The development of the study helped us learn about the role of real estate and the impact of space on firms," said Dr. Chegut, but she also pointed out how much real estate can provide for firms to get to the next level.
The results show that accelerator programs really help firms when they; get physical and give firms a space to work; remember that programming matters, like keeping class sizes smaller, giving the firms as long a program as possible, keeping the equity stake reasonable, giving as much cash as possible, celebrating the firm with a demo day; and work with firms to get as much pre-funding as possible. Professor Frenchman added that "What was striking was that standard across all these programs was mentorship, but accelerator programs have on average more experienced investors behind them and this is so important because its about people helping people." Combined these thoughtful differences in workspace and program help firms to develop new products, processes and technologies and most importantly to GROW. See the infographic below that summarizes their new working paper on the topic.
Is Innovation Really in a Place? Accelerator Program Impacts on Firm Performance
Read the paper by Sheharyar Bokhari, Andrea Chegut, Dennis Frenchman and Isabel Tausendschoen