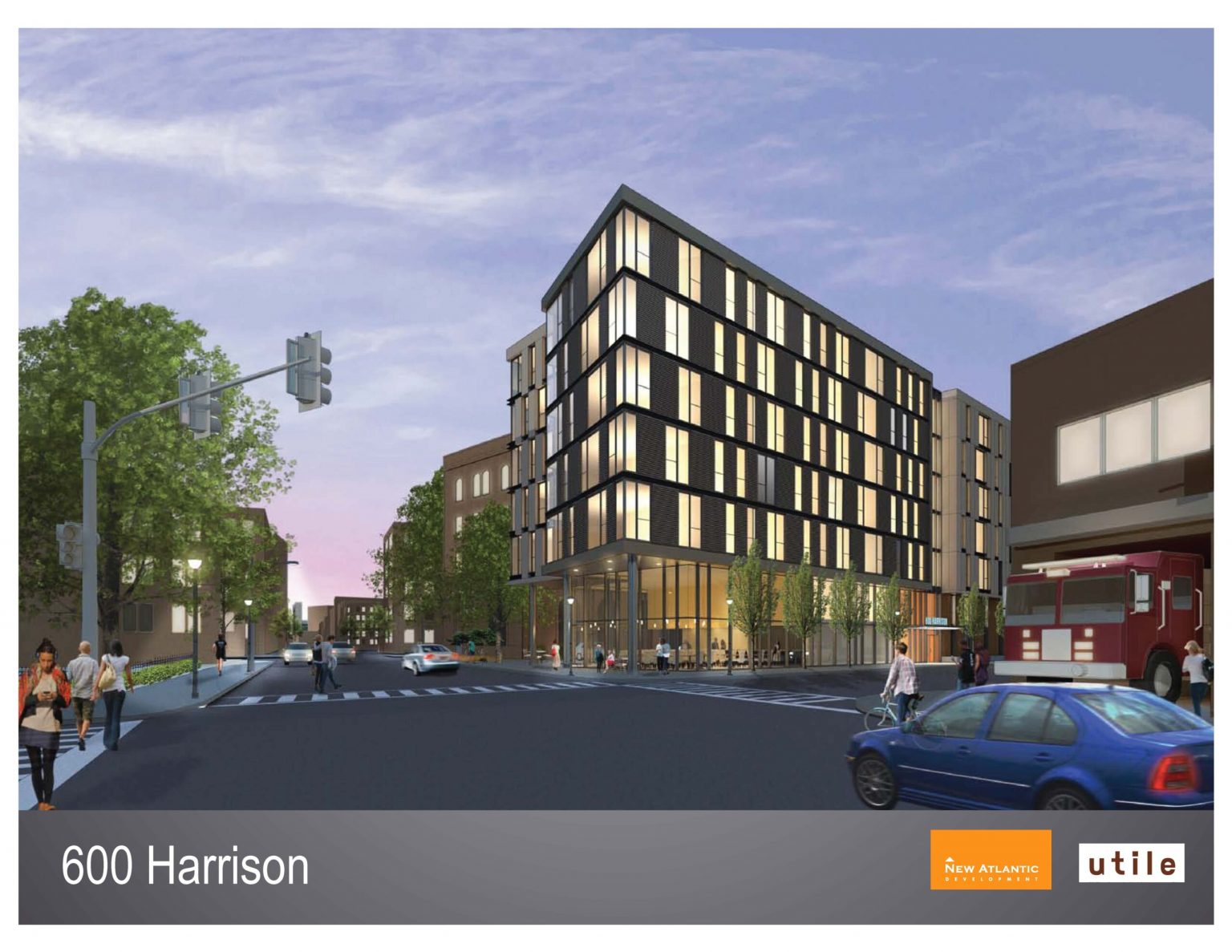 The Boston Redevelopment Authority approved the 600 Harrison Avenue project
In The News
By: PHILLIP MARTIN  for NPR


The Boston Redevelopment Authority board met at City Hall last night to review a dozen development projects that may soon add to the Boston skyline — the first BRA meeting under newly elected Mayor Marty Walsh.
The BRA and several key developers enjoyed a cordial — some would say even cozy — relationship with former Mayor Thomas Menino. The question being asked now is what those relationships will look like under Walsh?
If change is in the air at the BRA, it was not apparent at Thursday night's board meeting. Like many that were convened during the Menino years, it was a night of affirmation. A dozen projects up for consideration were approved by the BRA board.
Approved: the Landmark Center, a multi-tiered complex of stores, offices and luxury housing in the Fenway.
"Landmark — it's only been about a year, this redevelopment proposal," said Susan Elsbree, the BRA's communications director. "It's moved very quickly. It's a testament to the developer's relationship with the developer organizations, and what a terrific project it is."
Approved: a project to build 163 rental apartments at 600 Harrison Avenue in the South End that would also include 3,600 square feet of retail space.
"Well, it's going to replace a surface parking lot with some much-needed housing, some great retail space that will activate the corner," said project developer Peter Roth, who lectures at MIT on affordable mixed housing. "It will bring a sort of safe, eyes-on-the-space relationship with the park now, that's very underutilized — a lot of nefarious activity going on there."
Roth says the proposed development on Catholic Church-owned land will include 21 units below market rates.
"That fully complies with the inclusionary development guidelines here within the city, so that 15 percent of the number of market-rate units will be affordable, and in this case 100 percent of those will be on-site."
Roth says he expects the BRA to continue to support mixed-used development as it has historically. Several people at the BRA board meeting said this was exactly the kind of construction project that the Walsh administration could get behind. Walsh is a strong advocate of building rental housing that working and middle class people can actually afford. During the meeting, acting BRA Director Brian Golden suggested that there was little daylight between Walsh and Menino on the agency's priorities.
"Tonight we think we're off to a great start in the new year, and with this new administration as a partner," Golden said.
But it's not all rosy. Let's go back a few months, before Bostonians went to the polls in the fall. Then-candidate Walsh told WGBH News' Sarah Birnbaum that he planned to replace the BRA, which he said needed to be reformed "for efficiency and transparency."
"I think its important for the community to feel they have a voice in the BRA, and also its important for us to look at how the business community is handled, so they can really get an understanding of how the project is moving and how quickly or how long it will take to get a project from the beginning to the end," Walsh said at the time.
Walsh at that time said he would create a new economic development agency. And the person hired to lead it, he said, would work independently of the mayor. According to Walsh insiders, the transition team was also irked by what was described in December as a last-minute push by the Menino administration to approve lingering projects by developers with close to outgoing Mayor. But Elsbree says Mayor Walsh has signaled his support for continued commercial residential development, and the jobs that come with it.
"He just spoke to Colliers International, a group of 2,000 businesses to say that Boston is open for business, and he looks forward to working with them moving the city forward and creating more jobs for the residents of Boston," Elsbree said.
And part of that growth is taking place on the corners of Stuart and Tremont Streets where developers would like to locate a new hotel that just received a green light from the BRA.
"The demographics show in the city of Boston that they need hotel rooms," said attorney Bud Shadrawy, who represents the hotel development project before the BRA. "People want to come to a great city."
"All we can do is take it one day at a time," Shadrawy said. "Right now the staff has been very helpful and we've been able to go through the process, and it's a process that has definite times and regulations, and we'll just keep working toward it."
The BRA under Menino green lighted dozens of building projects that reshaped Boston's skyline, and he worked closely with now-retired Director Peter Meade. But downtown critics, and many uptown, have criticized the agency's decision making as isolated and closed to outsiders. Walsh has also spoken of income inequality, a theme raised by neighborhood activists who have complained about the fast paced growth of luxury high-rises and increased rents for working families.
"It's a very real issue and it is something that Mayor Walsh has been talking about," Elsbree said. "I think that we have a long history of strong community, strong neighborhoods, and Article 80, which is the process for going through permitting in the city of Boston, is very inclusive of community."
Two BRA employees speaking in confidence, because they were not authorized to speak to the media, said they are both excited about what comes next when the Walsh team is finally in place and fearful that what comes next could also mean slowing down the fast pace of development, and the end of the team that they've been a part of for so long with the re-configuration of the BRA.