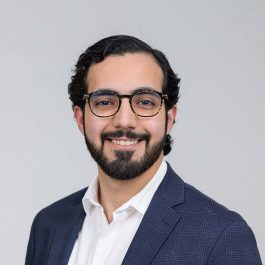 Mamoun
El Alaoui El Abdallaoui
MSRED Candidate 2024
Dubai, UAE
BSc Banking and Int'l Finance, Bayes Business School (London)
As a dual national from Morocco and Belgium born in Geneva, raised in Marrakech, and now living in Dubai, Mamoun's global outlook has been shaped by the diverse socio-cultural and financial landscapes of each city. Mamoun's ability to thrive in diverse communities and desire to learn from global peers drove his motivation to pursue the MSRED Young Leaders Program at the age of twenty-one.
In the spring of 2022 Mamoun graduated with honors from Bayes Business School London, where he obtained a BSc in Banking & International Finance. Thus far, Mamoun has had the opportunity to turn theory into practice through his amassed professional roles in real estate development with Palma Capital in the Dubai International Financial Center, financial services at PwC Dubai, as well as most recently in the Mortgages & Distress Investing team at Bank of America Merril Lynch in Paris.
Through such roles as an undergraduate, Mamoun developed an instrumental understanding of varying EMEA property markets, whilst working on the realization of land allotments, high end villas and apartment complex developments in Morocco in addition to the adaptive reuse and rehabilitation of office spaces into residential apartments in Paris.
Outside of the scope of his academic and professional endeavors, Mamoun is a devoted artist, putting his recreation to charitable use by selling his paintings and extending proceeds to communities in need, most recently to a local initiative with the mission to expand community access to wells and water sources for village inhabitants in the outskirts of Marrakech.