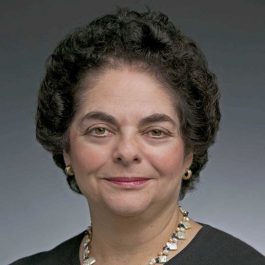 Sarah
Abrams
Visiting Lecturer
Contact Info
MIT Address
105 Massachusetts Ave, 9-343 Cambridge MA, 02139
Contact Info
MIT Address
105 Massachusetts Ave, 9-343 Cambridge MA, 02139
Sarah K. Abrams joined Iron Mountain as Senior Vice President and Head of Global Real Estate in January 2012 to drive globalization of the corporate real estate function and to transform it into a strategic business partner to the line business. Sarah leads a global real estate team responsible for real estate strategy, transactions (including leasing, acquisitions and dispositions), construction, ground-up development and facility management as well as global lease administration and REIT Supplemental reporting for Iron Mountain's 85 million sf real estate portfolio across 45 countries.
Prior to joining Iron Mountain, Sarah was the president of Fidelity Real Estate Company, the corporate real estate division of Fidelity Investments, where she led the team responsible for providing corporate real estate and location strategy services to Fidelity's business units, nationally and internationally. In that role she developed over $1.5 billion of real estate and managed a 10 million sf global real estate portfolio, which included office space, investor centers and critical computing environments.
Prior to joining Fidelity in 1996, Ms. Abrams was a Senior Vice President at USTrust, a Boston-based bank, where she ran its Real Estate Owned Department and established its first Environmental Risk Department. From 1988 to 1992, Ms. Abrams owned and operated the Trover Company, a real estate development and consulting firm. Ms. Abrams began her career as a Project Manager for the Kirkland Group, a multi-family housing developer.
Ms. Abrams holds a BA in Economics, magna cum laude from Boston University, a JD degree from Cornell Law School and a Master of Science in Real Estate Development from the Massachusetts Institute of Technology. Ms. Abrams is a past president and a current Legacy Council member of the New England Chapter of CoreNet Global, former president and chairman (and current Board member) of the Massachusetts Chapter of NAIOP-The Commercial Real Estate Development Association, a past president and current member of CREW (Commercial Real Estate Women) Boston, a former Board member of the Cambridge YWCA and a former member of the Industry Advisory Panel to the US Department of State's Bureau of Overseas Buildings Operations. She also served on the Boston Industrial Development Financing Authority for many years as a mayoral appointee.
A recipient of numerous industry awards and honors, Ms. Abrams was awarded the first MIT Center for Real Estate Spaulding Award, the Global Corporate Real Estate Executive of the Year Award from CoreNet Global in October 2013 and the CREW Distinguished Leader Award in September 2015. She has been recognized by the Boston Business Journal as a Woman of Influence and by Banker & Tradesman as a woman of FIRE (leader in the Finance, Real Estate and Insurance industries). She is the recipient of 6 Luminary Awards for excellence in speaking at CoreNet Global Summits and has also taught at the Cornell Law School, Babson University and the MIT Center for Real Estate, where she currently holds an appointment as a Visiting Lecturer. Ms. Abrams lives in Newton, MA with her husband and son.